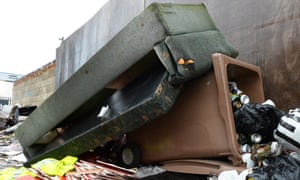 Fly-tippers could be forced to pick up litter as part of community service, the environment secretary, Andrea Leadsom, has said.
The government will also instruct councils to end the "unfair" practice of charging people to use tips, which Leadsom said could be a lead factor in the rise of fly-tipping.
The plans are part of a national litter strategy the Guardian understands will be published on Monday.
Under the strategy, those convicted of fly-tipping and given community service would be forced to help councils clear up fly-tipped waste.
Leadsom said: "Countless volunteers take time out of their lives to clean up the mess made by irresponsible litter louts and fly-tippers.
"But clearing up after fly-tipping not only affects local communities, it also costs the public purse millions. The government now wants to see more of those committing crimes like this taking responsibility for cleaning up the community by picking up litter and illegally dumped waste themselves."
The government is also reminding councils they should not charge residents to get rid of waste.
Councils are supposed to allow residents to use tips and recycling centres free of charge, including for rubble from DIY projects and other small home improvements. But the Department for Environment and Rural Affairs (Defra) said councils across the country charge people for such waste, contributing to a rise in fly-tipping.
Leadsom said: "Charging local residents for doing the responsible thing and taking their household waste to the tip is not only unfair and unacceptable, but could also be a lead factor in the reported increases in fly-tipping."
The government will be working with the environmental charity Wrap. "As part of our new litter strategy, we will work with Wrap to have clear, common-sense guidance for waste and recycling centres so they can be in no doubt people have the right to take their household rubbish to these sites and not be charged for its disposal," Leadsom said.
The Sunday Telegraph reported that the strategy will include automatic £60 fines for drivers if rubbish is thrown from their car, whether they are personally responsible or not. It will also involve a focus on the nation's "binfrastructure".
It is estimated that the pavements of Oxford Street in London have 300,000 pieces of chewing gum stuck to them at any one time, a statistic contained in the strategy, the paper reported.
English councils reported more than 900,000 cases of fly-tipping and spent £50m clearing up incidents in 2015-16, according to figures published last month. The Woodland Trust said 2016 was the worst year on record for fly-tipping, with almost 200 cases of rubbish dumped on land it manages.
Campaigners said fly-tipping was rising partly because budgetary pressures had forced some councils to reduce their waste services.
Last year, the government introduced £400 on-the-spot fines for those caught fly-tipping.
Article originally published on www.theguardian.com on 9th April 2017.